This article or section contains information regarding scheduled, forthcoming or expected future video game(s).
The content may change as the release approaches and more information becomes available.
LEGO Batman 2: DC Super Heroes



Item №:

TBA

Theme:

Price:

TBA

Developer(s):

Traveller's Tales

Publisher(s):

Warner Brothers

Released:

Summer 2012

Platforms:

Nintendo DS, Nintendo 3DS, Nintendo Wii, PlayStation 3, PlayStation Vita, Xbox 360
LEGO Batman 2: DC Super Heroes is a DC Universe video game to be released on June 19, 2012
Characters
Edit
Supergirl
Bizarro
Poison Ivy
Harley Quinn
Zatanna
Nightwing
Batgirl
Katana
Captain Marvel
Damian Wayne
Aquaman
Cyborg
The Flash
Martian Manhunter
Hush
Killer Croc
Mr. Freeze
Sinestro
The Penguin
The Riddler
The Scarecrow
Two-Face
Two-Face Henchman
Mr. Freeze Henchman
Killer Moth
Joker Henchman (Hat)
Joker Henchman (No Hat)
Bruce Wayne
Hawkgirl
Shazam
Hawkman
Black Canary
Huntress
Lois Lane
Vicki Vale
Tim Drake
Vehicles
Edit
The Batmobile
The Batwing
The Joker's Helicopter
The PC DEMO files for LEGO Harry Potter Years 5-7 include content about LEGO Batman 2: DC Super Heroes, listing Batman, Superman, Superman's flight control, Batcar, Robin, Glide Pack, Tightrope Base, and Grapple Point.
LEGO.com Description
Edit
This is a description taken from LEGO.com. Do not modify it. (visit this item's product page)
---
Summer 2012: Batman is back to save Gotham City and the action will only build from here!
The Highly-Anticipated Sequel to the Best-Selling LEGO® Videogame of All Time Returns with Help from Super Heroes including Superman, Wonder Woman and Green Lantern.
Warner Bros. Interactive Entertainment, TT Games and The LEGO Group are teaming up once again to announce that LEGO® Batman™ 2: DC Super Heroes will be available beginning Summer 2012 for the Xbox 360® video game and entertainment system from Microsoft, PlayStation®3 computer entertainment system, the Wii™ system, and Windows PC, as well as the Nintendo DS™ hand-held system, Nintendo 3DS™ hand-held system, and PlayStation®Vita handheld entertainment system. The game is the sequel to the best-selling LEGO® Batman™: The Videogame, which to date has sold more than 11 million units worldwide.
LEGO® Batman™ 2: DC Super Heroes complements the brand new, recently released LEGO® Super Heroes: DC Universe toy collection. The line includes five construction sets, such as The Batcave and three buildable, detailed action figures.
In LEGO® Batman™ 2: DC Super Heroes, the Dynamic Duo of Batman and Robin join other famous super heroes from the DC Universe including Superman, Wonder Woman and Green Lantern to save Gotham City from destruction at the hands of the notorious villains Lex Luthor and the Joker. Batman fans of all ages will enjoy a new and original story filled with classic LEGO videogame action and humor as players fight to put the villains back behind bars.
"LEGO® Batman™ 2: DC Super Heroes builds upon the action and cooperative gameplay experience established in our best-selling LEGO video game to date, LEGO® Batman™: The Videogame," said Tom Stone, Managing Director, TT Games. "We're offering fans a rich and expansive Gotham City environment filled with cool characters, great customization options and plenty of surprises that families, young gamers and DC Universe fans can enjoy together."
"LEGO® Batman™ 2: DC Super Heroesfurther extends and combines both the Batman and LEGO videogame experiences to create very fun gameplay," said Samantha Ryan, Senior Vice President, Development and Production, Warner Bros. Interactive Entertainment. "Fans of all ages are going to enjoy the action and light hearted humor that TT Games and LEGO provide."
LEGO® Batman™ 2: DC Super Heroes allows players to explore all new areas of Gotham City utilizing a variety of vehicles including the Batmobile and Batwing. In addition, they'll be able to fight for justice by mastering new gadgets and suits, such as Batman's Power Suit and Robins' Hazard Cannon, and using all-new abilities including flight, super-breath and heat vision.
LEGO® Batman™ 2: DC Super Heroes is being developed by TT Games and will be published by Warner Bros. Interactive Entertainment.
Exclusive minifigure
Edit
Screenshots
Edit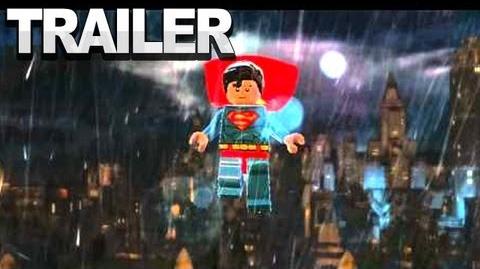 Ad blocker interference detected!
Wikia is a free-to-use site that makes money from advertising. We have a modified experience for viewers using ad blockers

Wikia is not accessible if you've made further modifications. Remove the custom ad blocker rule(s) and the page will load as expected.