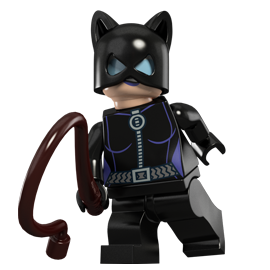 Featured Article for the Month of December
Catwoman is an upcoming minifigure for the DC Universe theme.
Background
Edit
Having had a very difficult childhood, Selina Kyle learned various thievery skills and used them to become a slick burglar known as Catwoman. In her public life, she is a wealthy socialite living off the loot she has stolen. As Catwoman, Selina seeks thrills in stealing various artefacts and treasures and taking her ill-gotten spoils to her socialite life.She is a skilled gymnast and martial artist, and wields gloved claws as well as a whip. Catwoman is not directly against Batman as she sometimes allies with him in his crime fighting. (more...)
Ad blocker interference detected!
Wikia is a free-to-use site that makes money from advertising. We have a modified experience for viewers using ad blockers

Wikia is not accessible if you've made further modifications. Remove the custom ad blocker rule(s) and the page will load as expected.